Cannabis Compliance Software
Streamline and automate your compliance management with our software, designed to drive growth in your cannabis business.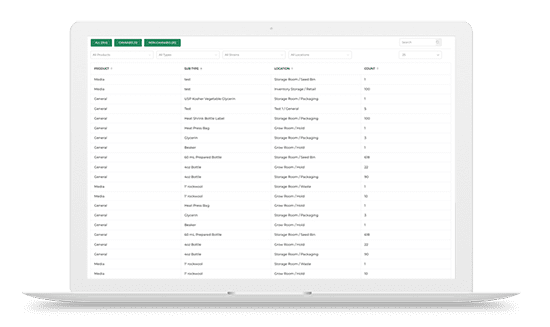 Cannabis Compliance
Cannabis Seed to Sale Compliance Software
Nugistics' cannabis seed-to-sale compliance software is your solution for a streamlined, compliant and growing business. With ease of use and implementation, our software can be configured to your specific operation, giving you the flexibility you need.
The software comes with a range of tools and analytics to help you optimize your operations, simplify your processes and monitor staff performance. With state/region-specific workflows per facility/license, you can stay on top of state regulations and reduce the steps and opportunity for human error.
Seed to Sale Tracking
Our compliance software for seed-to-sale tracking helps retailers, cultivators, and producers meet government reporting requirements by being fully integrated with statewide track and trace systems like BioTrackTHC, Leaf Data Systems, and Metrc.
Ensure compliance and optimize your operations with our powerful seed-to-sale tracking tools.
Inventory Management
Multi-Facility Support
Reporting & Analytics
Plant Management
Customer Relationship Management
Chain of Custody
Metrc Compliance

Effortlessly maintain compliance with our integration with Metrc. Our cannabis compliance software enables easy monitoring and tracking of products, ensuring regulatory compliance.
Biotrack Compliance

Ensure compliance with ease via our Biotrack integration. Our cannabis compliance software facilitates effortless product monitoring and tracking, ensuring regulatory compliance.
Cannabis Compliance
Compliance Software for Cannabis Businesses
With Nugistics' advanced cannabis compliance software, you can achieve comprehensive and efficient seed-to-sale tracking. Our software provides you with powerful tools that help you optimize your operations, ensuring compliance with ease.
Cultivation
Our cultivation software module includes advanced plant management features and tools for efficient operation and optimized yields.
Manufacturing
Our manufacturing software module provides comprehensive tools for tracking inventory, production, yield trends, COGS reporting, and permissions management.
Dispensary
Our dispensary module streamlines operations and ensures compliance, with features for inventory management, customer relationship management, and reporting & analytics.
(coming soon)
Beyond just seed-to-sale tracking, our software also offers inventory management, multi-facility support, and customer relationship management. With all these features in one platform, you can streamline and simplify your operations, freeing up time and resources to focus on growing your business.