Cannabis Manufacturing Software
for Processors and Manufacturers
Our technology platform makes producing, manufacturing and distributing cannabis simpler.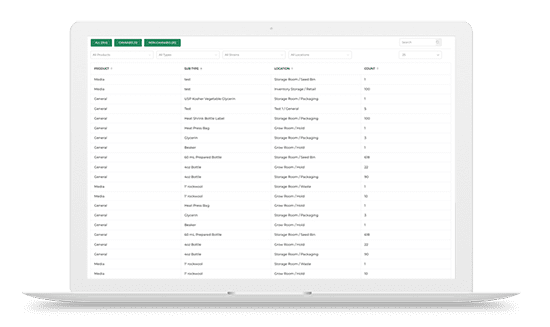 Cannabis Manufacturing Compliance
With Nugistics, you will be able to grow your business while staying compliant with local regulations.
Nugistics' cannabis manufacturing software provides manufacturers with tools for tracking and managing inventory, for creating and optimizing recipes, and reduce the time between receiving orders and delivering product.


Cannabis Manufacturing & Processing Software
We have built our Cannabis Manufacturing software to help you manage your cannabis business. Our App allows you track and measure everything from inventory and workflows to recipes and compliance, so that you can run your operation safely.
Nugistics Manufacturing Software Features
Inventory Management
Our software will let you know when your stocks are running low or depleted so they can be replenished before it's too late! Track inventory for cannabis and non-cannabis materials, as well as finished products.
Recipe Management
The cannabis recipe management feature allows cannabis businesses to combine inventory ingredients with ease, build standard, easy-to-replicate recipes, track packaging costs and eliminate wasted time on data entry.
Transfer Tracking
Move inventory between the testing and production departments as you work toward making a product for sale. Our tools allow you to move inventory efficiently as you go from raw materials to production to packaging.
See it in action
Manufacturing Software Made Simpler
Want to see more?
Our sales representative, will schedule a full product demonstration for you at your convenience. They can answer any questions you have, and provide a custom quote based on your operation's needs.
Cannabis Cultivation Management Software
Our app helps you track your inventory across all the stages of cultivation – seedling, vegetative, flowering, cloning and harvest. It also allows you to plan and organize your grow room.
End-to-End Inventory Management
Nugistics offers solutions for manufacturers of all sizes.
Metrc Integration & Custom State/Province Reporting

Unlimited Rooms & Personalized Organization
Custom User Permissions
Custom Reporting Tools & Dashboard
At-a-Glance & In-Depth Reporting
Calendar & Tasking System
Easy-to-use interface
Custom Recipes for Repeatable Processes
Built-In Package Tags
Inputs for Non-Cannabis Items
Automatic Convert to Waste for Used Biomass
Inventory Management
Customizable Naming Scheme
Order Invoicing & Manifesting
Real Time Reporting
QA Integrations
Order Fulfillment
Customer Relationship Management
Multi-Facility Support