Cannabis Cultivation Software
for Growers and Cultivators
Our technology platform makes growing, cultivating and distributing cannabis simpler.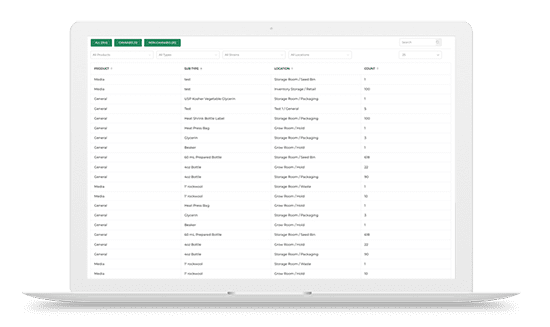 Cannabis Cultivation Compliance
With Nugistics, you will be able to grow your business while staying compliant with local regulations.
Nugistics' cannabis cultivation software provides tools and insight to help growers manage, grow, and scale their operations. It helps you track inventory, monitor processes, and forecast yields.


Cannabis Cultivation Management Software
Our app helps you track your inventory across all the stages of cultivation – seedling, vegetative, flowering, cloning and harvest. It also allows you to plan and organize your grow room.
Nugistics Cultivation Software Features
Plant Management
Simplify the process of initializing, modifying, and batching projects involving plant propagation and growth
Harvest Management
Track harvest weights and post-harvest packaging, batch, and lot numbers with the system.
Materials Management
You can track the inventory of your grow operation's raw materials in unlimited rooms and categories.
Easy-to-use
The invoicing and inventory management system simplifies sales and purchasing processes, eliminating the need to navigate between application screens.
Maximize Yields
Cultivators can maximize their yields by tracking the lineage, nutrient and water intake, and batch-specific yield metrics of various operations.
Compliance
Our built-in compliance tools help you record harvest weight, packaged weight, and test results of your product and automatically submit the information to state tracking systems.
See it in action
Cultivation Software Made Simpler
Want to see more?
Our sales representative, will schedule a full product demonstration for you at your convenience. They can answer any questions you have, and provide a custom quote based on your operation's needs.
Cannabis Grow Software
Our platform provides ERP services to the cannabis cultivation industry, upgrading cultivation businesses from small-scale to enterprise level operations.
End-to-End Inventory Management
Nugistics offers solutions for cultivators of all sizes.
Metrc Integration & Custom State/Province Reporting

Unlimited Rooms & Personalized Organization
Custom User Permissions
Custom Reporting Tools & Dashboard
At-a-Glance & In-Depth Reporting
Calendar & Tasking System
Individual & Batch Plant Management
Custom Feeds & Treatments
Built-In Plant Tags & Package Tags
Plant Lineage Tracking
Automatic Harvest Yield Calculations
Individual & Batch Plant Cloning
Last Action Indicators
Order Invoicing & Manifesting
Real Time Reporting
QA Integrations
Order Fulfillment
Customer Relationship Management
Multi-Facility Support
Trim & Waste Tracking