Cannabis Cultivation Software
for Growers and Cultivators
Our technology platform makes growing, cultivating and distributing cannabis simpler.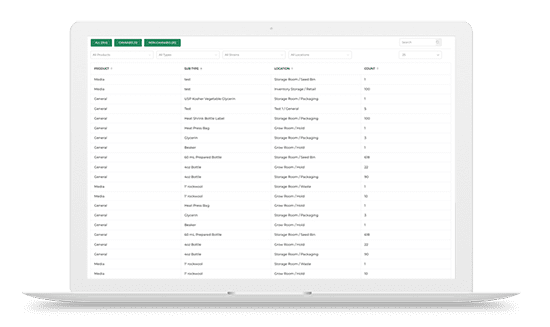 Cannabis Cultivation Compliance
With Nugistics, you will be able to grow your business while staying compliant with local regulations.
Nugistics' cannabis cultivation software provides tools and insight to help growers manage, grow, and scale their operations. It helps you track inventory, monitor processes, and forecast yields.


Cannabis Cultivation Management Software
Our app helps you track your inventory across all the stages of cultivation – seedling, vegetative, flowering, cloning and harvest. It also allows you to plan and organize your grow room.
Nugistics Cultivation Software Features
Plant Management
Simplify the process of initializing, modifying, and batching projects involving plant propagation and growth
Harvest Management
Track harvest weights and post-harvest packaging, batch, and lot numbers with the system.
Materials Management
You can track the inventory of your grow operation's raw materials in unlimited rooms and categories.
Easy-to-use
The invoicing and inventory management system simplifies sales and purchasing processes, eliminating the need to navigate between application screens.
Maximize Yields
Cultivators can maximize their yields by tracking the lineage, nutrient and water intake, and batch-specific yield metrics of various operations.
Compliance
Our built-in compliance tools help you record harvest weight, packaged weight, and test results of your product and automatically submit the information to state tracking systems.
See it in action
Cultivation Software Made Simpler
Want to see more?
Our sales representative, will schedule a full product demonstration for you at your convenience. They can answer any questions you have, and provide a custom quote based on your operation's needs.
Cannabis Grow Software
Our platform provides ERP services to the cannabis cultivation industry, upgrading cultivation businesses from small-scale to enterprise level operations.
End-to-End Inventory Management
Nugistics offers solutions for cultivators of all sizes.
Metrc Integration & Custom State/Province Reporting

Unlimited Rooms & Personalized Organization
Custom User Permissions
Custom Reporting Tools & Dashboard
At-a-Glance & In-Depth Reporting
Calendar & Tasking System
Individual & Batch Plant Management
Custom Feeds & Treatments
Built-In Plant Tags & Package Tags
Plant Lineage Tracking
Automatic Harvest Yield Calculations
Individual & Batch Plant Cloning
Last Action Indicators
Order Invoicing & Manifesting
Real Time Reporting
QA Integrations
Order Fulfillment
Customer Relationship Management
Multi-Facility Support
Trim & Waste Tracking
How Cannabis Grow Software Can Improve Your Business
There are several good reasons why you need a robust cannabis grow software to run your marijuana business. For starters, each state with legalized cannabis has put some requirements in place, requirements that are meant to manage and regulate the industry. In many states, one of those requirements involves buying and installing cannabis seed-to-sale software of some kind.
Now, the software you choose depends on any number of things but, in many cases, the state has a recommended provider and software. This marijuana grow software is meant to collect the necessary data into a central location that both you and the state's regulating bodies can access to ensure that you comply with state regulations.
Immediately, you can see how having this software can be beneficial to your business. It helps you stay on the right side of the law by ensuring regulatory compliance and helps you keep track of your product from seed to point of sale.
The best part is that grow software often provides multiple features that go into helping you with other business necessities, such as employee management, payroll, and so forth. So, here are several different ways that the right cannabis grow software can help grow your marijuana business, no pun intended.
The Benefits of a Cannabis Grow Software to Your Business
Depending on the kind of software you choose, there are a few inherent benefits that come with installing one. For the most part, much of this software has similar features that tend to perform the same applications, albeit from different angles. Here are some of the key benefits that come with choosing the best cannabis grow software for your business:
1. Streamlines Your Cultivation Operations
You need a way to keep track of crops from seed to point of sale. Crops are most sensitive during the cultivation, maturing, and harvesting phases. With the right kind of software, you will not only be able to keep track of this entire process by having sensitive data such as soil pH and crop needs uploaded to the platform, but you will also be able to document the entire process using images. This can be an important tool when it comes to both regulatory compliance and marketing.
Additionally, the right kind of software will give you invaluable insight into your current yields, advise on how to improve that yield, as well as highlight the most productive period of the growing circle for you to maximize. Here are some other wonderful ways that the right grow software can create insights into the cultivation process and help you improve your business:
Genealogy tracking: This helps you track any cross-breeds and shows you the different types of plant genetics in your grow house. This information can help pinpoint which cross-breeds or clones are most potent as well as most economically sound within your niche.
Yield forecasting: You can monetize and analyze your usual harvest data as well as cross-breed tendencies to forecast the kind of yields you might get.
Monitor and analyze your results: You're running a business so there's a good are going to be doing a lot of other stuff while your crops grow. To stay on top of it, you need an efficient way to monitor things like the pesticides used, nutrients applied, watering cycles, lighting, and so on. The data collected sheds light on the practices that are either helping or hurting your yield so you can adjust accordingly.
2. It Streamlines the Processing and Manufacturing End of Things
Today, you can process your crops into many different end products for the market. Whether you want to turn your harvest into edibles, oil, or any other form of in-demand inventory, you can do so but you need to keep track of all this to remain both transparent to your customers and compliant with legal regulations. The right kind of cannabis grow software can do that for you and so much more:
Highlight product details: Whenever you send any product into the market, you need to provide your customers with details. With the right software, you can easily input these details during the processing period and include key details such as potency results, ingredients, expiration date, and so on.
Keep track of your conversions: Which crops have been converted into oil, edibles, or any other form for the market? You can easily convert your products into multiple by-products and still maintain a well-documented chain of custody.
Generate transactional reports: Invoices, purchase orders, and other details are necessary for regulatory compliance as well as your own internal auditing.