Cannabis Cultivation Software
for Growers and Cultivators
Our technology platform eliminates regulatory complication for cultivators and distributors.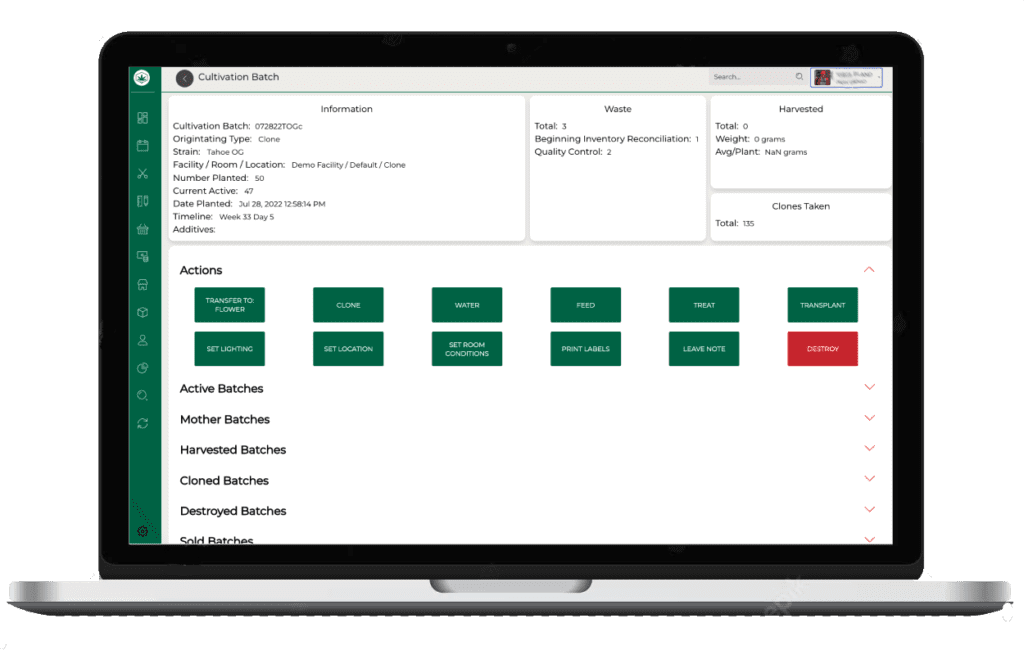 Cannabis Cultivation Compliance
With Nugistics, compliance is made simple by giving you access to useful tools through our desktop and mobile app.
Nugistics' cannabis cultivation software provides automatic state-compliance reporting, generates monthly reports, and provides helpful insights to your growing team. Manage your plants individually or at scale using room & batch actions, keeping track and staying compliant have never been this easy.


Cannabis Cultivation Management Software
Our app helps you track your plant inventory across all lifecycle stages of cultivation
seeds, clones, vegetative, flowering, harvest, and beyond.
Nugistics Cultivation Software Features
Plant Management
Simplify the process of creating, managing, and processing plant batches using bulk-action tools including feedings, room conditions, and cloning.
Harvest Management
Process whole crop harvests as a single weight for simple drying, trimming, and curing. Create quick packages for unique processing, manufacturing, and testing.
Materials Management
Track your Non-Cannabis inventory along side your plants. Set consumption limits for materials to ensure constant availability.
At Your Fingertips
Manage your day-to-day using our Mobile App. Where you can quickly scan tags for various actions, create new plantings, or harvest and process whole crops.
Distribute Success
Look the part with personalized Sale Orders, Invoicing, and Manifests. While staying ahead with yield forecasting and robust reporting.
Compliance
Our built-in compliance tools will report counts, additives, weights, tags, and manifests to your compliance authority automatically. Giving you time to focus on your product.
See it in action
Cultivation Software Made Simpler
Want to see more?
Our sales representative, will schedule a full product demonstration for you at your convenience. They can answer any questions you have, and provide a custom quote based on your operation's needs.
Cannabis Grow Software
Our platform provides ERP services to the cannabis cultivation industry, upgrading cultivation businesses from small-scale to enterprise level operations.
End-to-End Inventory Management
Nugistics offers solutions for cultivators of all sizes.
METRC & BioTrack Integration

State/Province Reporting

Real Time Reporting
Non-Cannabis Inventory Management
Last Action Indicators
Multi-Facility Support
Plant & Batch Level Plant Management
Built-In Tagging Feature
Custom Feeds & Treatments
Plant Lineage Tracking
Harvest Yield Calculator
Trim & Waste Tracking
No User Fees or Caps
Individual User Permissions
Calendar & Tasking System
Reporting Tools & Dashboard
Relationship Management Features
Order Invoicing & Manifesting