You have been following the legal cannabis industry for long and your interest in it keeps growing with each piece of information you find. Cannabis cultivation raises your interest the most in this industry that is estimated to be worth $46.8 billion worldwide by 2025. That's a pretty huge sum which means that professionals in this sector will be making more and more each year.
After legalization, it all starts at the growing level. And that's where you want to be. But you must be wondering: how much do growers make selling to dispensaries? Relax. In this article, we will unravel the cannabis growing profession to make it easier for you to see what you are getting into. Let's roll a round.
Who is a Grower?
First things first. A cannabis grower is a professional who cultivates legal marijuana for sale to businesses such as dispensaries. As a grower, you can cultivate marijuana in outdoors on open farms or indoors in greenhouses. Most growers now prefer the indoors growing option because it gives them more control over the outcome of the crop.
How to Become a Marijuana Grower to Sell to Dispensaries
To become a grower, you'll need to get a cultivation license. This certificate shows that your state allows you to work as a cannabis grower in a given area. Obtaining this certification is a lengthy process. But that should not hold you back if you are passionate enough about becoming a grower.
It's better to get the marijuana grower's license. This one will allow you to cultivate cannabis and sell your produce to dispensaries. Make sure that you check with your state for regulations and the licensing process.
Requirements to Become a Grower Selling to Dispensaries
Most dispensaries looking for cannabis growers insist on someone with a degree in botany or horticulture. But it's still possible to become a grower even if you haven't completed your degree. Just start off by working with an established cultivating company until you are good enough to grow on your own once you get a grower's license.
Even with a degree in horticulture or botany, dispensaries looking to partner with growers will want you to have some prior knowledge and experience growing cannabis. This is because they want to reduce cost and hire growers who won't need extensive training to get started.
Recognizing that your growing techniques need improvement is another major quality dispensaries look for in a grower. There's always room for improvement. To get the opportunity to sell your produce, you have to admit that you are not at your best yet, and that you are open to keep learning more so as to refine your produce to fit the specific requirements of the dispensary.
When interviewing with a dispensary, let them know that you are a professional who recognizes that work comes first. They will want to work with someone they can rely upon, even on an on-call basis for quick supplies.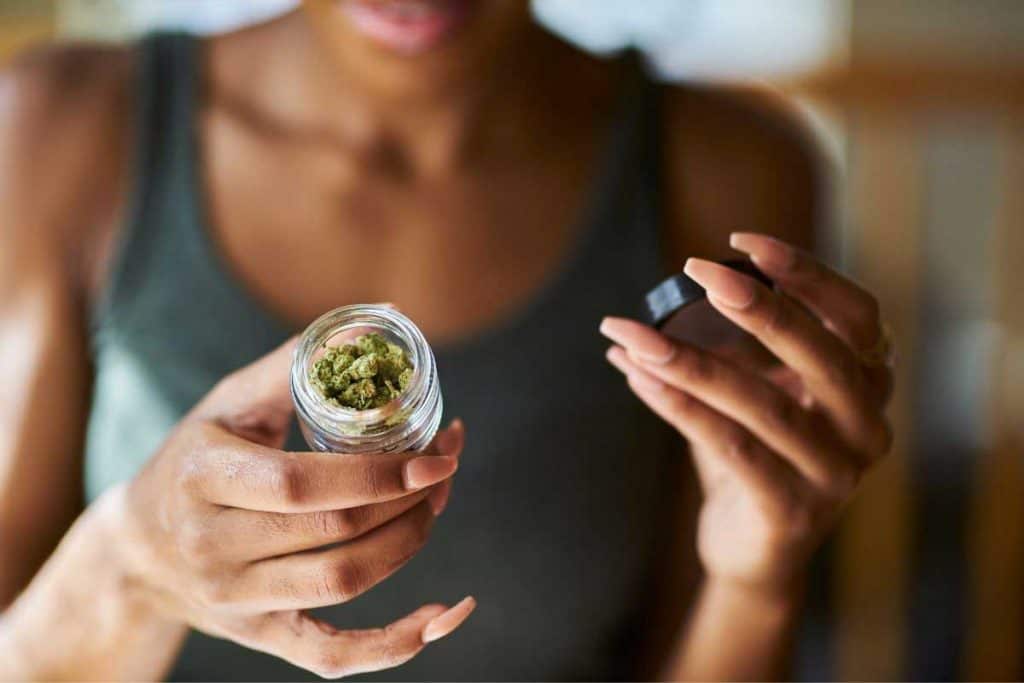 Grower Positions You Can Take Up
If you are wondering which grower position you should take up, here's a breakdown of the 3 positions. Note that people in the first two positions work under the master grower. The aim of including these two is to make your scope wider so you are not limited to the master grower position only, especially if you are not in a position to get directly into it. You can start from these lower levels and work your way up after gaining immense knowledge and experience in the blooming marijuana industry.
1. Bud Trimmer or Marijuana Trimmer
This is the lowest level in cannabis cultivation. A bud trimmer works with harvested flowers, manicuring them by trimming and pruning them to remove the fan and sugar leaves. Manicuring is important since most cannabinoid-filled trichomes accumulate more on the flowers, which is why growers remove the leaves.
Bud trimmers earn between $30,000 and $35,000 per year. The pay system is usually a fixed monthly salary though in some areas, growers offer hourly rates of $12 – $15. Some growers may pay trimmers by weight to motivate them to work faster and have more daily output.
2. Assistant Grower or Grow Assistant
An assistant grower works under the master grower at an annual salary range of $43,000 – $53,000, with $48,000 as the average. As an assistant grower, you will be helping growers with the tasks we are about to discuss in the next position. Note that a grow assistant can either work with one grower or several of them at the same time. This depends on the agreement between them and the grower.
3. Master Grower
You will want to get into this level right away if you have the required educational and growing experience. It comes with huge expectations but for which the rewards are massive. Other than intense knowledge in horticulture, dispensaries will want you to have excellent managerial skills since you will work with assistant growers and bud trimmers on your farm, which calls for proper interpersonal and managerial skills.
The following are some of the duties of a master grower, and which grow assistants help them with:
Hiring and firing employees on the lower ranks in the grow chain
Maintaining gardens and trim rooms
Checking soil attributes such as pH and levels of water and nutrients
Checking optimal growth conditions for crops such as aeration, humidity, light, and temperature
Managing and controlling pests and diseases that may attack cannabis crops
Marketing their produce
Ensuring adherence to state laws on finances and taxes and the quality of produce
Interacting and dealing with state inspection and federal law enforcement officials
Ensuring garden safety so that no malicious people get in to steal or destroy produce.
What Is a Dispensary?
A cannabis dispensary is an outlet where you can buy processed marijuana products. It's outlook and function is typical of a pharmacy. The difference is that in these dispensaries, jars filled with marijuana herbs and edibles as the items of trade.
There are strict laws from state to state on the location of dispensaries. Most of them are in hospitals, retail shops, or doctors' offices.
Cannabis dispensaries come in two types, medical and recreational.
Recreational dispensaries are stop-and-shop outlets where people above 21 years of age can buy marijuana products like flowers, edibles, or topicals. You do not need to have orders from a doctor to access these products. However, they are not legal in all states.
Medical dispensaries attend to patients to whom doctors have prescribed treatment with marijuana. As such, a doctor's orders and registration at the dispensary are two major requirements before receiving the medication.
Online dispensaries are also coming up in states like California. They sell to clients online and directly deliver to them at their locations.
How Do Growers and Dispensaries Relate?
Dispensaries will need you to have a valid license before they start trading with you. The license and licensing process varies from state to state. It also depends on the state to which you want to sell your produce.
Before setting out, you should first decide if you want to work with a recreational or medical dispensary. Medical marijuana has higher quality standards. You should acknowledge that you can adhere to the strict production and quality guidelines for medical marijuana.
Your decision on the type of marijuana you will grow will depend on the preference of the dispensary. Some buy and sell organic marijuana only, while others focus on specific strains only.
States in Which Dispensaries Are Legal
Cannabis dispensaries are legal in some states across the United States such as California, Massachusetts, Illinois, New York, Nevada, Washington, Iowa, Oregon, New Jersey, Connecticut, Minnesota, Rhode Island, Hawaii, and Ohio, among others.
Locating Marijuana Dispensaries
Since marijuana dispensaries are mushrooming at a high rate across the United States, locating services have become a necessity to make it easier for growers, patients, and recreational consumers to find dispensaries closest to them. Some of the locating service providers include: Weedmaps, The MJ Directory, Weedadvisor, Merry Jane, Leafbuyer, and Leafly. Look up these locating services to find a suitable buyer for your weed produce.
Most Famous Dispensaries in the United States
Here's a small list of the most well-known marijuana dispensaries in the United States:
California: Humboldt Patient Resource Center (Arcata), Caliva Dispensary & Weed Delivery (San Jose), Harvest (San Francisco), Exhale Med Center (West Hollywood), Cookies, and California Herbal Remedies (these last two are in Los Angeles)
Colorado: Native Roots (several cities), Oasis Superstore (Denver), Silverpeak (Aspen)
Massachusetts: NETA Northampton (Northampton)
Alaska: Great Northern Cannabis (Anchorage), High Expedition (Talkeetna)
Washington: Lux Pot Shop, and Have a Heart (both in Seattle), World of Weed (Tacoma), Cannabis and Glass (Spokane)
Oregon: Kings of Canna (Portland), Tokyo Starfish (Bend), Growing ReLeaf (Beaverton)
Nevada: Essence Las Vegas Strip, and Planet 13, both in Las Vegas
Arizona: White Mountain Health Center (Sun City), The GreenHouse (Glendale), Swell Farmacy (Youngtown)
Michigan: KIND Dispensary (Lansing), Healing Tree Wellness Center, House of Dank, and The Jazz Club (these last three are in Detroit)
Dispensaries With Multiple Branches Across the United States
Some dispensaries have several locations across different states. These include the following:
Have a Heart (Washington, Hawaii, Oregon, California, Iowa, Ohio)
Apothecarium (San Francisco, Las Vegas)
MedMen (Nevada, California, Florida, New York, Arizona, Illinois)
Diego Pellicer (Seattle, Denver)
How Much Do Growers Make Selling to Dispensaries?
There are several factors that go into determining how much a grower makes selling cannabis to dispensaries. These include: the state you are growing in or selling to, size of your cultivation operation, type of dispensary you are selling to, and the quality of your produce.
The size of the cultivation operation determines the quantity of produce. Large-scale operations have more yields and higher amounts of the final product to deliver to dispensaries. In fact, the top 10% producers make $20,000,000 to $200,000,000 in annual sales with an average of about $1,050,000. Producers in the remaining 90% make an average $260,000 per year. However, these statistics should not scare you as a modest grower as you have the chance to start small and keep scaling your grow operation to higher levels of production.
Master growers selling their cannabis produce to dispensaries make between $50,000 and $145,000 per year. This amount is subject to fluctuations based on quantity, quality, prevailing market supply and demand, and as the marijuana industry blossoms and more states relax their laws on the use of medicinal and recreational marijuana.
Selling Your Produce to Dispensaries
Cultivating is only one of the activities a grower does in the marijuana chain. Other than that, a grower has to process the harvested produce to fit the specific requirements of the dispensary that buys from them. Activities in the post-harvesting period include trimming, branding, packaging, and the actual delivery. It is the branding and packaging design that sets one grower apart from another. It's advisable to use unique designs that will appeal to your buying dispensary. Ensure that the material and design of the packaging does not in any way lower the quality of your produce.
Conclusion
To roll it up, we have looked at not only how much a marijuana grower can make selling to dispensaries, but also what you need to become a grower and the duties you perform as one. We have also considered some of the states in which dispensaries are legal, the most famous ones across the United States, and how you can locate them. All this information goes into addressing the mammoth question on your mind: how much do growers make selling to dispensaries? Make your next step finding a suitable dispensary or applying for a grower's license.
We wish you the very best!